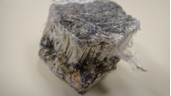 Are you planning renovations? Make sure that your insulation materials do not contain vermiculite or asbestos. Concept GDC inc. can conduct the necessary tests before you commence your work.
Vermiculite is also known under the name "Zonolite." It is generally found in the attic but it is sometimes also found in walls and ceilings. It is possible that it contains asbestos, though this is not the same for all vermiculite. However, one cannot simply rely on the appearance of the material or the year of its installation to determine this.
Other insulation materials can contain asbestos, for example conduit insulation, plaster joints (made between 1960 and 1970), certain tiles or themal plates, etc.